Our

Projects

Quran

Classes
Previous
Next
Mishkat Blog
One of the most powerful earthquake has hit the region and affected thousands of lives in Turkiye, Syria and surroundings. More than 14,000 people have lost their lives and several thousands are injured. Buildings have collapsed and lives have been disturbed after the catastrophic earthquake.
Help one another in acts of piety and righteousness. And do not assist each other in acts of sinfulness and transgression. And be aware of Allah. Verily, Allah is severe in punishment (Holy Quran 5:2)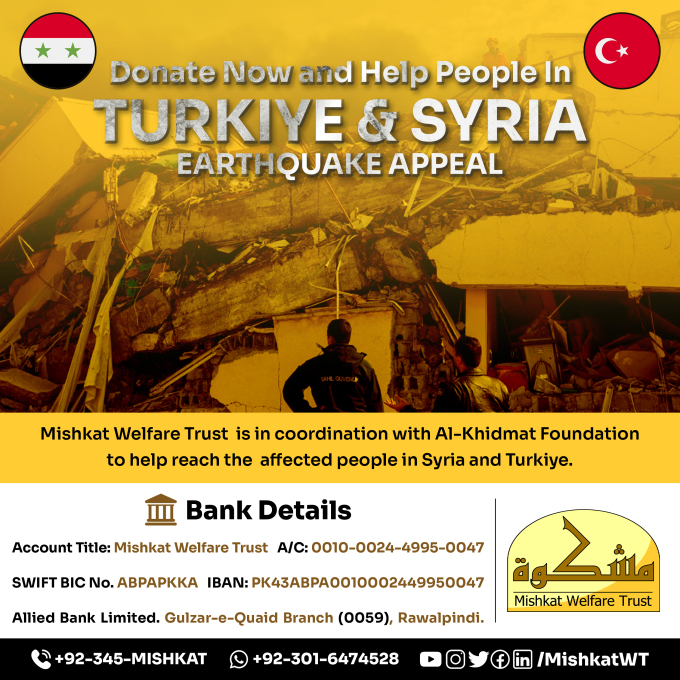 Helping each other is a way to overcome the grief that others feel in distressed times. As Muslims, we feel the pain that our fellow muslims are going through and we extend our help and complete support to the a ected souls.
Mishkat Welfare Trust is collaborating with Al-Khidmat Foundation to help the affected people in Turkey and Syria. We are collecting donations for the earthquake victims and sharing with Al-Khidmat Foundation who is involved in relief efforts for the people in Turkiye and Syria. Please come forward and donate as much as you can to help our fellow muslims in this distressful time.
May ALLAH SWT accept what little we do and keep us steadfast on this religion. Ameen
Give charity without delay, for it stands in the way of calamity. (Al-Tirmidhi)
---
---
---
---
---
---
---
---
---
---
---
---
---
---
---
---
---
---
---
---
---
---
---
---
---
---
Mishkat Membership
You can become a member of Mishkat Welfare Trust by filling out a simple information form and monthly donations. You can also volunteer to become an active member by contributing through your skills and ideas.
Besides becoming a member, you can also give a one time donation.
We also accept Zakat money which will only be spent on the deserving people and not in the expenditure of the Trust.