Our

Projects

Quran

Classes
Previous
Next
Mishkat Blog
---
Before the start of Ramadan, reserve your reward (insha Allah) by participating in Ramadan Ration distribution. Following are the details: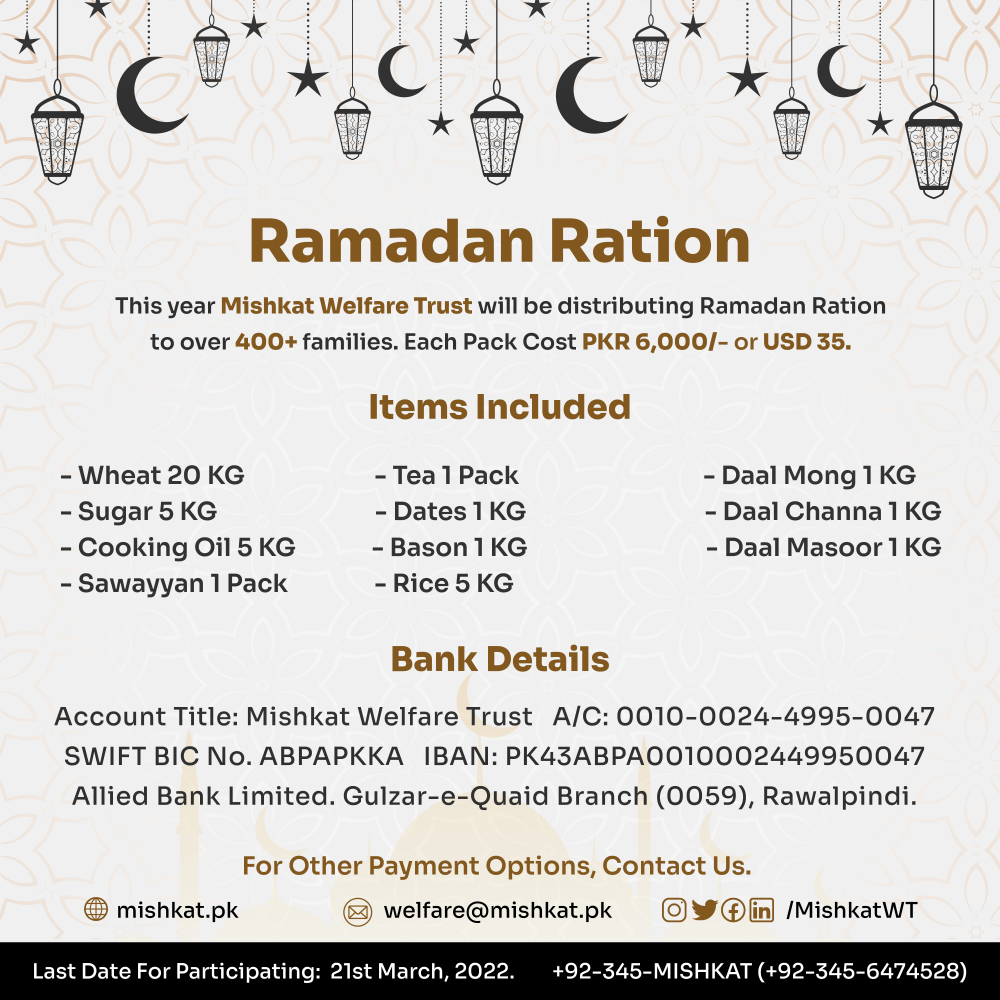 Alhamdulillah target has been achieved!
Zakat can also be given but please make sure to inform us explicitly about it.

You can send your contribution through the following bank account:
Account Title: Mishkat Welfare Trust
Account Number: 0010-0024-4995-0047
SWIFT BIC No. ABPAPKKA
IBAN PK43 ABPA 0010 0024 4995 0047
Bank: Allied Bank Limited.
Branch: Gulzar-e-Quaid, RWP.
Branch Code: 0059

Please confirm your contributions on email or the contact numbers provided.
---
---
---
---
---
---
---
---
---
---
---
---
---
---
---
---
---
---
---
---
---
---
---
Mishkat Membership
You can become a member of Mishkat Welfare Trust by filling out a simple information form and monthly donations. You can also volunteer to become an active member by contributing through your skills and ideas.
Besides becoming a member, you can also give a one time donation.
We also accept Zakat money which will only be spent on the deserving people and not in the expenditure of the Trust.
Tweets from Mishkat
Dated: 24th Nov 2022
Mishkat Welfare Trust has been committed to #education and charity, all of which were possible due to the efforts of our staff and donors.

We are blessed to share that Block 1 of Islah School has been operating and providing education to deserving children since August 2021.
---
Dated: 24th Nov 2022
Islah Public School Construction Update
Currently, the construction of Block 2 of Islah Public School is ongoing and requires your support. The estimated cost for this extension is 4.25 crore.
For donations:
https://islah.edu.pk/donate-for-campus
#islam #charity #PakistanZindabad
---
Dated: 9th Nov 2022
In times of uncertainty and disappointments, #AllamaIqbal's poetry is and will always remain a source of motivation and inspiration. #IqbalDay #IqbalDay2022
---
Dated: 30th Sep 2022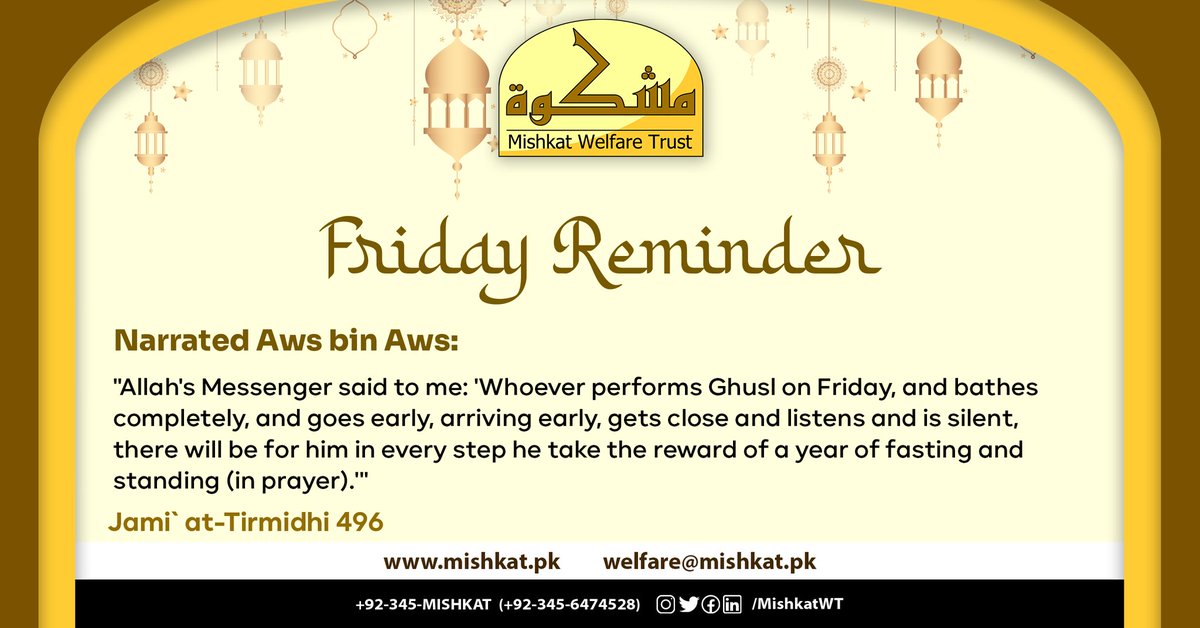 Friday Reminder.
#Hadith Narrated by Aws bin Aws (R.A) about essentials of #Jummah prayer and the rewards promised upon fulfilment.
Jami'at -Tirmidhi 496
Follow our social media links:
http://linktr.ee/mishkatwt
#Islam #ProphetMuhammadSAW #JummahMubarak #hadithoftheday