Our

Projects

Quran

Classes

Previous
Next
Mishkat Blog
Qurbani Meat Distribution 201929th Jul, 2019
Mishkat has arranged the sacrifice of animals during Eid-ul-Adha and distribution of the meat to deserving families.
Alhamdulillah target has been achieved!
Total Shares: 49
Received: 50
You can send your contribution through the following bank account:

Account Title: Mishkat Welfare Trust
Account Number: 0010-0024-4995-0047
SWIFT BIC No. ABPAPKKA
IBAN PK43 ABPA 0010 0024 4995 0047
Bank: Allied Bank Limited.
Branch: Gulzar-e-Quaid, RWP.
Branch Code: 0059

Please confirm your contributions on email or the contact numbers provided.
Mishkat Membership
You can become a member of Mishkat Welfare Trust by filling out a simple information form and monthly donations. You can also volunteer to become an active member by contributing through your skills and ideas.
Besides becoming a member, you can also give a one time donation.
We also accept Zakat money which will only be spent on the deserving people and not in the expenditure of the Trust.
Tweets from Mishkat
Dated: 18th Oct 2021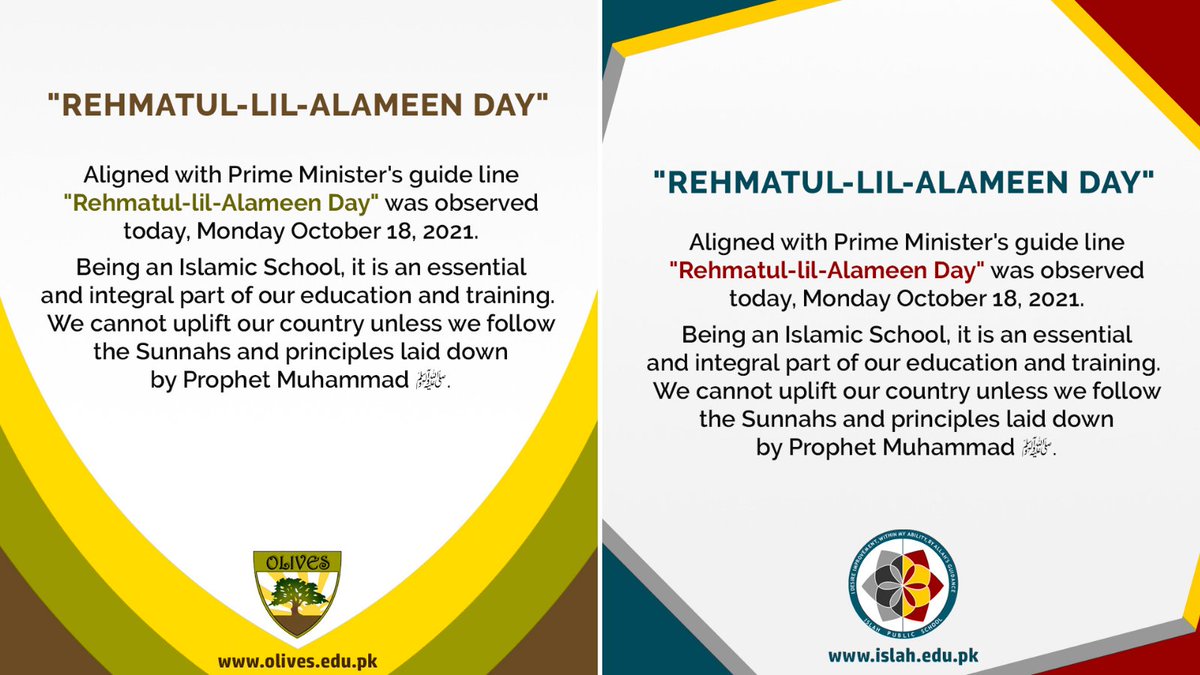 Mishkat #Welfare Trust is dedicated to promoting the #Sunnah of the #ProphetMuhammad and working for #Pakistan through #education and #charity.
On the occasion of #EidMiladunNabi "Rehmatul-lil-Alameen Day" was observed today, in @OlivesSchool, and @IslahSchool.
#Islam
---
Dated: 13th Oct 2021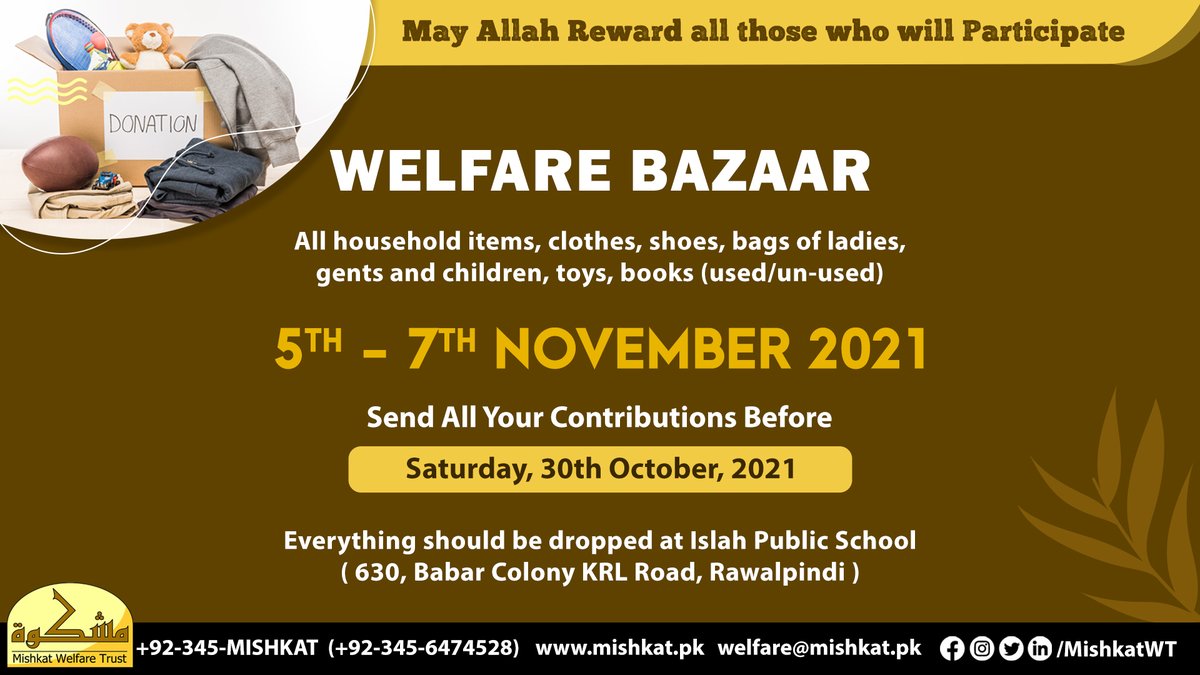 #MishkatWelfareTrust is excited to announce its #Welfare Bazaar from 5th to 7th November 2021.
Contact: +92-345-MISHKAT (0345 6474528)
Email: welfare@mishkat.pk
Location: @IslahSchool (630, Babar Colony KRL Road, RWP)
#Charity #Welfare #Donations #Humanity #Pakistan #Children
---
Dated: 7th Oct 2021

Proud to inform that students from @OlivesSchool have secured impressive in Class 10 (SSC-II) Federal Board (#FBISE) Exams 2021. All students have scored A+ grades with an average percentage of 94.2%. #Alhumdulillah!
Details:
https://olives.edu.pk/blog/top-scorers-matric-2021
#Education #Pakistan
---
Dated: 6th Oct 2021
We are now active on most social media platforms, including #Facebook & #Instagram. Will work to deliver updates on our activities and educate people on the blessings of #charity.
May Allah bless our journey ahead. Ameen
Links:
https://linktr.ee/MishkatWT
#Islam #Welfare #Pakistan https://t.co/jkoKskjl4J