Our

Projects

Quran

Classes
Previous
Next
Mishkat Blog
Iqbal Day 202109th Nov, 2021
"Failure is not fatal until we surrender, trying again is the key of glorious victory"
Today 9th November 2021, the nation observes 144th birth anniversary of the national poet and philosopher Dr Allama Muhammad Iqbal. Iqbal played an instrumental role in inspiring million of Muslims in the sub-continent to seek an independent homeland where they can practice Islam freely. Allama Muhammad Iqbal was born in Sialkot on 9th November 1877. He was a poet, philosopher, politician, lawyer, scholar and is known as one of the most important figures in Urdu and Persian Literature.
Iqbal was a strong upholder of political and spiritual revival of Islamic civilisation. According to Iqbal, the first step towards Islamic Revolution is through education, by inculcating the teachings of Holy Quran and Sunnah. He motivated muslims especially youth to acquire education and practice Islamic teachings. He strongly felt that there should be an independent state where Muslims can practice their teachings freely. Thus, he laid the foundation of Pakistan and made intense efforts towards achieving an independent state for Muslims where they can practice Islam freely. His poetry is motivational and inspirational.
At Olives School, we observed this day by having a brief discussion about Iqbal and his contributions towards Pakistan to students in all classes.
Mishkat Membership
You can become a member of Mishkat Welfare Trust by filling out a simple information form and monthly donations. You can also volunteer to become an active member by contributing through your skills and ideas.
Besides becoming a member, you can also give a one time donation.
We also accept Zakat money which will only be spent on the deserving people and not in the expenditure of the Trust.
Tweets from Mishkat
Dated: 24th Nov 2022
Mishkat Welfare Trust has been committed to #education and charity, all of which were possible due to the efforts of our staff and donors.

We are blessed to share that Block 1 of Islah School has been operating and providing education to deserving children since August 2021.
---
Dated: 24th Nov 2022
Islah Public School Construction Update
Currently, the construction of Block 2 of Islah Public School is ongoing and requires your support. The estimated cost for this extension is 4.25 crore.
For donations:
https://islah.edu.pk/donate-for-campus
#islam #charity #PakistanZindabad
---
Dated: 9th Nov 2022
In times of uncertainty and disappointments, #AllamaIqbal's poetry is and will always remain a source of motivation and inspiration. #IqbalDay #IqbalDay2022
---
Dated: 30th Sep 2022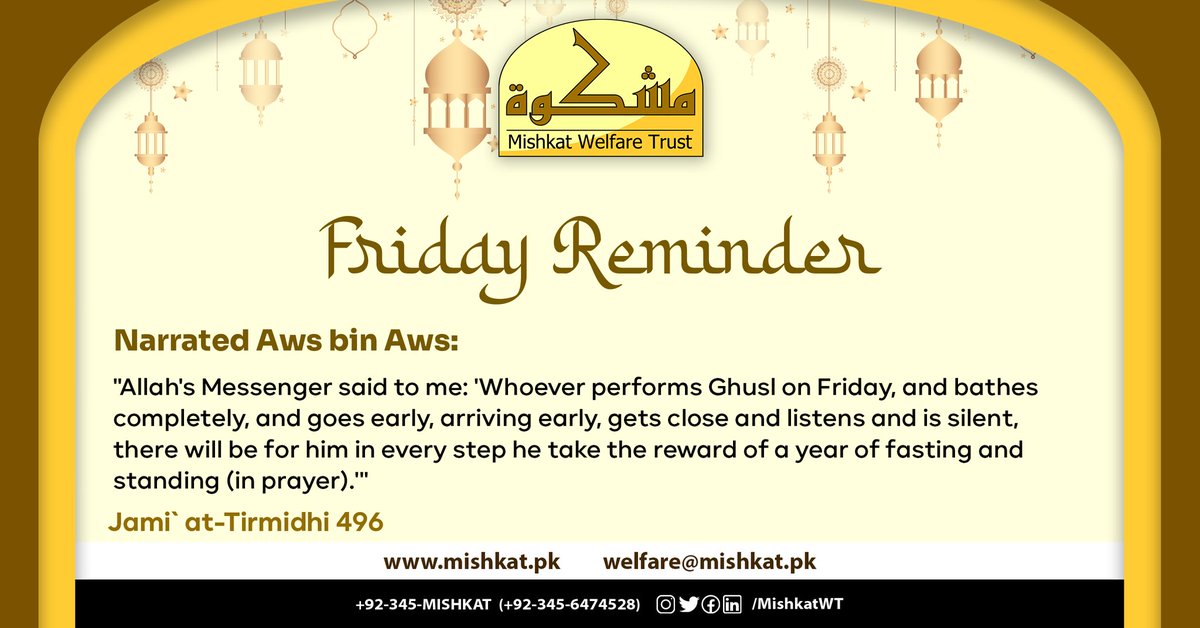 Friday Reminder.
#Hadith Narrated by Aws bin Aws (R.A) about essentials of #Jummah prayer and the rewards promised upon fulfilment.
Jami'at -Tirmidhi 496
Follow our social media links:
http://linktr.ee/mishkatwt
#Islam #ProphetMuhammadSAW #JummahMubarak #hadithoftheday